bird shit
there's this fairly big ass pile of bird shit on our way to the garage. it's huge. it's like, 5 inches in diameter and maybe an inch high now.
what the hell? does that fucking bird never move from that spot? and i never see a bird there. it's probably one of those big ass crows. i hate them. sometimes they sit atop our chimney and scratch at it. and you can hear it echoing in the chimney. it's creepy. i swear they're coming to get us.
it's so damned nasty. i hate bird shit.
in high school once, a damned seagull shat in my hair and it dribbled down onto my backpack. it was so nasty. i didn't even know. i think i was sitting in biology class when the boy behind me, bobby, touched my hair and said, "what's that in your hair? paint?" i glanced at it and i couldn't figure it out until i looked down at my backpack. yup, white seagull shit.
i just mumbled, "uhm, yeah." and turned back around quickly. i was so mortified. i skipped the next class to run up to my dorm to take a shower.
fucking seagulls. to this day, i'm paranoid whenever i see a group of birds. in venice, in san marcos square (i think that's the name of it) there are a shitload of pigeons. people take pictures with them... oh, damn. i'm going to have to find one to post....
okay. so there it is. yeah. they put bird feed or something in their hands, and as the pigeons swarm all over them, they're supposed to kiss.
uh... NO. i don't see how that's supposed to be romantic. first of all, they're pigeons. pigeons are rats with wings. much like seagulls. second of all, you know one of them is going to shit on you. there's no way that you can have 50 birds (trust me, there were more coming) and not have any let one loose on you.
and bird shit's all gross and wet.
so i have issues. i can't help that i watched The Birds at an early age.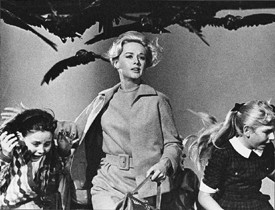 my parents were afraid i'd get lonely, so they got me parakeets. damn, they are annoying. they just chirp and cheep all friggin' day and night long. i liked them. until they shat on me, too. i hate birds.