o, christmas tree....
here are some of my favorite ornaments...
i love stitch... and i love how he looks all petrified that he's getting a kiss... stitch reminds me of a little koala. a fuzzy blue koala. or a wombat. cute! :D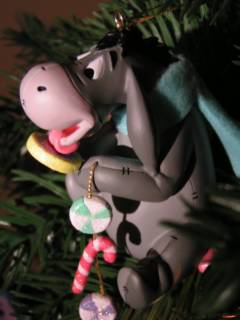 eeyore's got a liiiiitle candy addiction... he's my favorite pooh character.
rudolph! i don't think i need to say more...
and this really could be my favorite ornament... a fuzzy stitch.
mashimaro is our little star atop our tree...
and here's our tree... yes, it's little, but it has a lot of heart. for a fake tree, that is...