it's monday already????
feels like the weekend just started :(
what the fuck is this white shit on my sweater? i just got it back from the dry cleaners and the sleeve has this white shit on the end. looks like dried spunk. not that i would know what that looks like, i always wash it off really fast ;P muwahaha... anyway, it's fucking gross.
nothing too exciting this weekend...
friday night went to my cousin's... now, i'm sure this is going to make me sound like a freak and/or an idiot, but i didn't know that you're not supposed to put regular dishwashing liquid in the dishwasher. my mom almost never used the dishwasher and we never use it at home. i don't know. makes me feel like the dishes aren't really clean unless i handwash them.
i don't think it would be a good idea to even use ours now... the tubes are probably all dried and cracked...
at any rate, my cousin was almost out of cascade. so we just put in a TINY bit of dishsoap. i assumed it would bubble up a bit, so she only put in a LITTLE bit...
holy christ. it was pouring out of the dishwasher...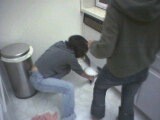 i know the picture is small, but... the one squatting is my cousin... i've got my jeans rolled up... and all of the white on the ground? those are suds. it was like a bubbly ass waterfall...
and steve very kindly came by and took a picture... while he was laughing at us.
jerk.
so yeah. that was... uhm. fun... sure.
watched
elf
. what a fun movie! i didn't think i wanted to watch it. i mean, i do like will ferrell and all, but i dunno. it hadn't really appealed to me. but i found it to be really cute.... i kept on cracking myself up on the ride to work this morning thinking about parts in the movie... i'm going to say it's a 4 outta 5...
had a listen to
collision course
, the linkin park/jay-z collaboration EP. it's less of a collaboration than it is just a mash of their songs. they did a good job combining their songs together... if you're looking for something original stay away from it. only good if you're a hardcore linkin park and jay-z fan. you can't be a fan of just one of them. i'm not exactly a hardcore fan of either so i was just kind of annoyed by the whole thing.
i baked a pie for the first time in my life. let's just say i'm going to buy pies from now on. look, no one told me i needed to put butter on the bottom of the pan. sheesh. i tried making the crust (which had a lot of butter in it) but i botched it up. so i bought one of those pillsbury refrigerated ready-made crusts... but i guess it didn't have much butter in it. so had i not botched up the crust, it probably wouldn't have needed the butter. oh, never mind. i've decided. i hate baking.
stupid fucking pies.
what else, what else.... steve made me breakfast on saturday morning :) yay! i slept in so late on saturday morning... oh and sunday, too. i almost never sleep in. i slept in until about 9 or so on saturday and until 11 on sunday. crazy. usually i'm up by at least 7 or 7:30 on weekends...
OH! and we put up our christmas tree. now it really feels like xmas. it didn't feel like it at all because it just seemed to be too early for xmas. it just crept up on me... so, we listened to ella fitzgerald sing the christmas songs and we decorated the tree... i started my xmas shopping... i'm almost done. woohoo!
already looking forward to the next weekend, even though i don't think we have anything planned...