oh, yeah...
finally finished
paper mario
. what a fun game. if you have a gamecube, you have to get this game. if you don't have the gamecube, you have to get it just to play this game... also, you have to get the
wavebird
controllers. they rock. they're wireless, run on AA batteries and the batteries last forfuckingever. it's supposed to be like, 100 hours.
it took me 45 hours to complete... i think it's a 20 hour game, if that. yeah, i'm slow. heh. i'm just glad i finished it before halo2 comes out. speaking of which, they're selling them at midnight tonight. steve might go wait in line for that. he's a madman. there's no way i'm going. i feel like shit today. son of a bitch! i wanna go home.
we went to some chinese store to pick up some herbal medicine for my mom. i don't even know what city we were in. anyway, that was kind of an adventure. very few english speakers. and the last lady i "talked" to was tsking me... like, "chinese people should be able to speak chinese!" damn. even asians can't tell the difference between each other. hehe. yeah, i'll be honest, i can't tell the difference between chinese, japanese and korean, most of the time. it's sad. steve can, though. it must be all those years watching asian porn. bwahaha. j/k. they had a bunch of older dvds and vcds there for sale, though. interesting selection. i had to buy a vcd of andy lau's concert. it's called "proud of you." i had to get it. the pictures on it have a big waterfall thingie falling on him... so he's all wet with his shirt all open. for being as old as he is, he sure has a nice body. *grawr* uhm. i can't remember what else is on it. at any rate, it looks like it would be an interesting and entertaining show... even if i don't know any of the songs... or what the fuck he's singing.
we went to
kantor gallery
in LA. since i didn't have anything to give to steve for our upcoming 2 year anniversary, i bought him a
yumiko
print.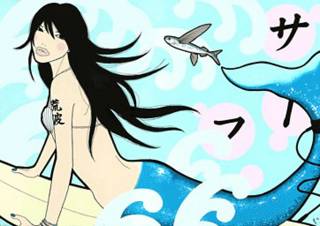 it's called "surf." apparently, the owner of the art gallery is a big fan of yumiko's work. he or she had a bunch of her original art. must be nice. we'll probably put it with the other asian girl art we have by
david mack
. he is the creator of the kabuki series... i think he does some of the daredevil comics, too.
afterwards, we went to
olvera street
... some freakin' good mexican food... for the first time, i tried a potato taco ... it's a taco, but instead of meat, it's got like savory mashed potatoes in it. it's fucking great. there was this skinny dude... kinda moby-esque. anyway, he was right next to us when he ordered one... and he's all verifying with the guy behind the counter, "it doesn't have meat, right? no meat?" the guy concurs... he purchases one and starts munching on it as he's walking away. i just wanted to run after him and tell him, "there's no meat, but you know that taco shell is FRIED in LARD, right?" but i didn't. now i'm regretting it. damn. i should've just stalked him until he was done eating it ... and then said it to him. that would've been funny...
so i had a big ass bean and beef burrito... with this tasty guacamole sauce... and hot sauce... and then i had a potato taco... the shell had just been fried. mmm... fried... lard... and then we had churros. mmm... churros... i was so bad this weekend as far as food goes... i didn't eat healthy at all!
yesterday, i *gasp* went to church with steve and his mom. steve's so good, he goes every week and then spends time with mom. i only go occasionally... mostly because i don't want his mom thinking that she's never going to be able to spend time alone with him again... but also because i just don't want to go to church. afterwards, we went to
norm's
. they never close. no, seriously. not ever. lots of old people like it there, i think... they have like, value meals. you get soup, salad, meal, dessert (or a drink... depending on the type of meal you get...) so, i ate everything. EVERYTHING... and then for dinner, i ate at least 2 servings of pasta.... after i ate a shitload of goldfish. what the hell is wrong with me?? i'm going to have to starve myself before our vacation... because lord knows i'm not dieting while on vacation...
it's coming up. thank god. i'm so excited. and that's the weekend wrap-up. just wish i could go home now....