trip, part deux
*warning: lots of pics*
Monday, November 22, 2004
mmm… sleep… 7:40AM. i could probably sleep for at least another 2 hours. apparently, hotels in NZ and australia have late check-in times and early check-out times…. seems that the norm is 10AM check-out and 3PM check-in. what a rip-off.
had a dream last night about playing with the fluffy, fuzzy lambs i keep seeing on the postcards.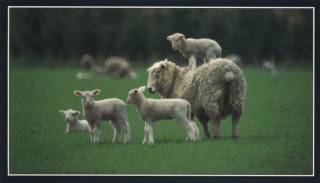 (BAAA!)
driving back to auckland today, but we're taking a different route, along the coastline… should be pretty…
the lady who owns the gift shop in the hotel is korean. talked to her for a bit. she was nice. i can't figure out what region of korea she's from… i'm not familiar with her accent… she's not a classy seoul bitch, yo. :P
we went to the geothermal pool at the hotel this morning… damn. it's HOT! i mean, i was expecting it to be hot, but it was just about unbearable. i only got in up to my thighs. and they were bright red like i just got the world's worst sunburn. and my legs smelled like sulfur afterwards. gross. it's like i let someone rub their buttcrack all over my leg. steve actually ventured all the way in…
steve was worried that the novotel would be some "soulless corporate entity in the middle of nowhere." he was pleasantly surprised. we'll walk around a little more before we head back to auckland.
we went to this place in rotorua… beautiful grounds and structures and statues.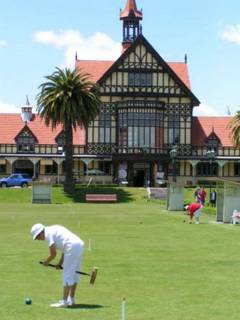 (isn't it cute how they wear all white when playing croquet? it is croquet, isn't it? anyway, except for that lady in the back fucking it up... she's wearing a red sweater. god! what a fucking screw up! maybe there are rules that say they can wear red sweaters... i dunno... whatever... )
there was a geothermal pool that was 212 degrees. i don't know if that's celsius or farenheit. … but it wasn't boiling. you'd think if water was that hot, it would boil… there was a lot of steam around it….. and it smelled very strongly of sulfur.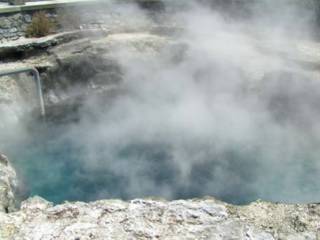 (it was getting hot there... but steve wasn't taking his clothes off... i don't get it. isn't that how the song goes??? the water under all that steam is crystal clear... gorgeous blue color. still smells like ass, though.)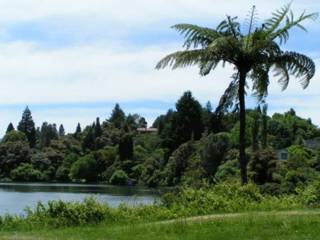 (random scenery pic... maybe we were driving down to auckland? maybe we were still in rotorua? i dunno. anyway, it was pretty and i liked it.)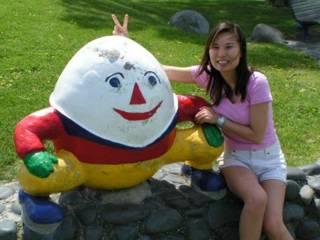 (oh, humpty d, you're my bestest friend!)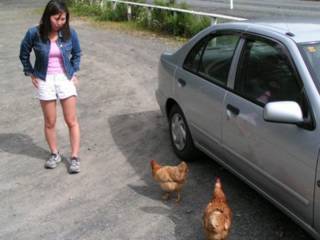 (helloooo, little, fat, succulent chickens... do you have any dinner plans? would yooooou like to come to dinner? hmm?
and i'm still diggin' that nissan pulsar :P)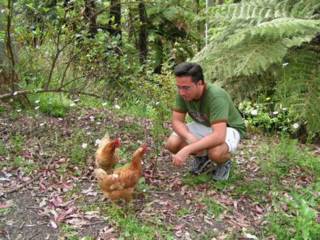 (so, ladies... come here often?)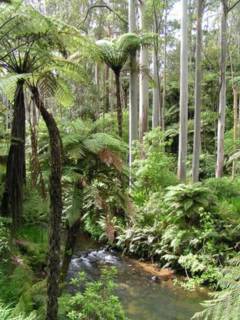 (in the park... just a minute or two walk away from those chickens.)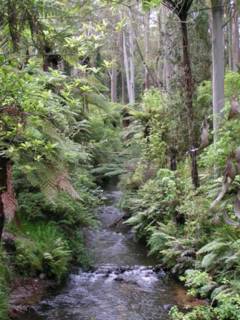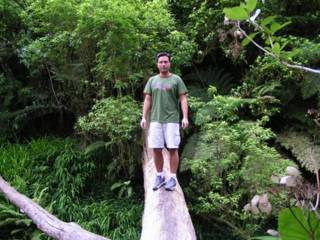 (hey, steve? honey? uhm... do you have that will updated?)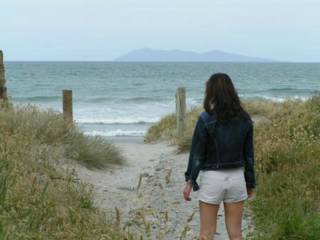 (this beach had the best shell collecting ever. it was unbelivable. perfect shells everywhere.)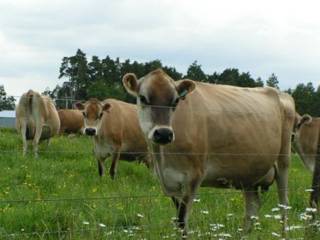 (oh! hello, tender little calf... maybe yoooou would like to have dinner with us? mmmm! i mean, moo!)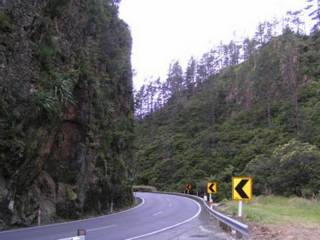 (the landscape changes so much... just within a few kilometers....)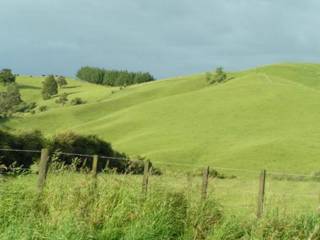 (see what i mean?)
we got to auckland without any problems. i'm the best navigatrix EVER! our hotel is really nice.
rydges
in auckland. there are two beds, though :( i think we can fit in one… i think they're both full size beds. we've got a gorgeous view of the harbor.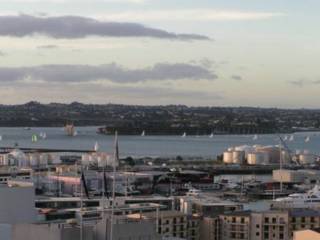 (view from our room)
the
sky tower
was only a block away. nice!
(standing outside the tower)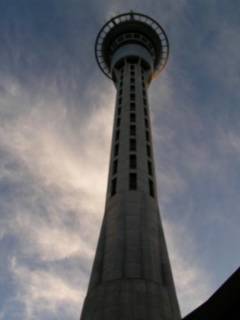 ("it's huuuuuuuuuuge!!!" this is the view from almost right outside our hotel.)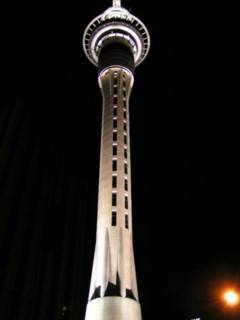 (and the night time view)
apparently, this tower is the tallest in the southern hemisphere. we took the elevator up to take pics. beautiful views of the city. they have these glass floor panels in parts of the floor. (and in the elevator, too!) it was really cool, but kinda scary. they said the glass was 38mm thick and was as strong as the concrete we were walking on… yeah, i'll let those other fools take their chances! this girl and this guy were all jumping on it and shit. dude, i wouldn't even jump on the concrete... what's wrong with these people?! crazy ass kiwis! i never thought i would be prone to get vertigo, but i got pretty dizzy looking down through those glass floor panels.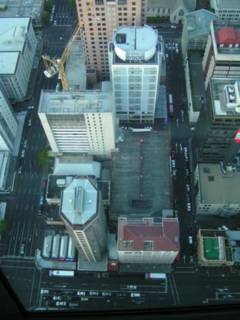 (the view of our hotel from the top of the sky tower. it's the building near the top, center.)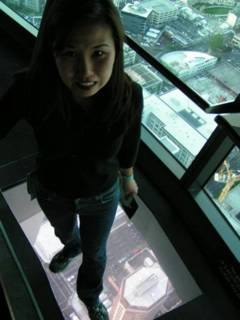 (standing on one of the glass panels... see that fake ass smile on my face? it's because i'm talking to steve and i'm saying, "hurry the hell up and take this picture so i can get the fuck off this glass panel!!!")
there's this
"sky jump" there and "vertigo
." sky jump is like bungee jumping, but no bouncing around... and vertigo is this steep climb inside the tower... yeah. no and no. i'm such a puss. well, actually, when we got there, it was closed, anyway. yeah. i'm telling everyone that's why i didn't do them... yeah.
they have this anti-sex campaign in NZ. "
no rubba, no hubba hubba
." i thought it was funny. apparently, NZ teens hate it. i guess if i were a teen, i'd hate it too. they said something on the TV there about how NZ has the highest incidences of chlamydia and gonorrhea for the age group 15-19. eep. scary. they really do need to watch out for their teens. sheesh! no getting action for steve or me while in NZ! :P
there are tons of kebab places in auckland.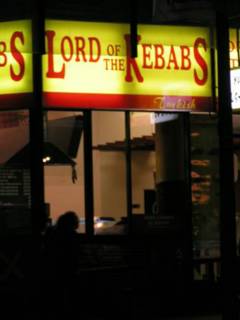 (and there will be one falafel to rule them all...)
we ate dinner at a different kebab place... i had to get fries. er, excuse me... CHIPS... goddamn, they make tasty fries... uh, chips.... no ketchup. tomato sauce. which is like sweet and sour sauce. tasty on fries...
it's a really nice city. clean, organized and it feels really safe. rotorua was a lot more rural… i don't know if it's just because it's smaller or because it's in bumblefuck… tomorrow, we leave for sydney… i'm looking forward to it.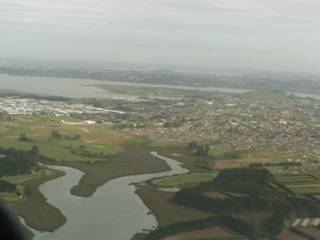 (view from plane, leaving auckland)