holy jeezus!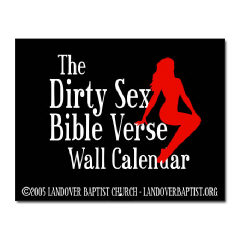 this is so goddamned funny to me! you can buy this
here
. the description starts off with, "don't forget mom's birthday!" what the fuck??? for even bigger laughs, check the left hand sidebar...
"W stands for War!"
"Heathen Merchandise"
"Unsaved People Suck!"
"Hellbound Catholics!"
you know what? i'm not going to spoil it. just look at it .... it's unbelievable!
does this seem weird and funny to anyone besides me???
OMG! i can get a
WWJD thong
!!!! it's so mine!