last observations...
a few other things… (sorry about the neverending posts about the vacation. it's almost over, i swear.)
i found THE world's best skincare line. ever.
AESOP
. it smells delightful. not too sweet like at bath and body works... unfortunately, i can't seem to find anywhere to buy the
facial cream
i like... i don't know what i'm going to do when it runs out... i might break down and cry... or fall to the floor and rock myself to sleep whilst in the fetal position. they have it at barney's, but i couldn't find my particular facial cream. and i don't know if the australian places will ship to the states... *sigh* i won't think about it until i run out... :(
oh, and they have these soap slabs that are awesome. i like
this one
in particular. i never really took care of my skin too much, but i'm not getting any younger... especially when i travel, i notice these lines on my face... AHHHH! NO!!!! so yeah... time to start buying good products and stop using lubriderm body lotion on my face... oh, and the regular soap probably isn't helping.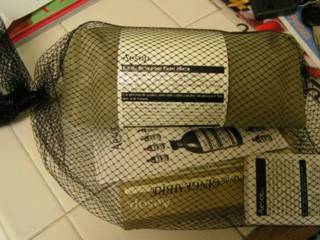 (and they wrap it all up so cute... steve said it's just blueberry netting. what the hell is blueberry netting? oh. so the birds don't eat them. fuck! farmboy just ruined my packaging. whatever. i still like it.)
fosters isn't australian for beer. i never saw a can of fosters anywhere. i did see a lot of toohey's and VB (Victoria bitter), and crown lager (which is actually by foster's). but i didn't see any cans of actual foster's.
the girls in australia may need to get introduced to the ab cruncher machine. they're not
obese
or anything, but almost all of them could stand to lose between 20-25 lbs. it's weird. they're all like that. there's almost no diversity in body shapes. i noticed that the girls in melbourne were particularly chubby and wore tiny little outfits. i don't know if it's because the outfits were so tiny that it seemed to accentuate the chubbiness… or if they were just chubbier than the other aussie girls. let's just say that none of
these girls
were there. i think those girls may be from a different country...
the boys (especially in melbourne) love to have that messy, messy, just been fucked hairdos. oh! and faux-hawks.
flies suck ass. they're fucking everywhere… if you don't mind kamikaze flies diving into your face, food and drinks, you'll be just fine. i don't know if it's just a seasonal thing or what... i can't imagine that it would be seasonal, though because everyone else didn't seem freaked out by it. they were all used to it or something...
the toilets have a full flush/half flush button. i guess the full flush is for those heavy duty shits or something… the toilet seats are angled differently… and they're kind of small. steve said, "i can't fit my junk down in there." i can't stop laughing. holy god!!!
and the public restrooms there are gorgeous. clean, full (or almost full) doors so no one can peep in at you as they're walking by... the only thing that's kind of unnerving is when you flush, it's like a goddamned waterfall is coming out and you're going to get swept away or something.
i think they make their sausages out of lamb or something. i don't know what it is, but it's not pig. and it's gamey. i hate me the gamey meat. steve thinks it's venison. i wouldn't know. i've never in my life had venison. i can't eat bambi!!!
breakfasts come with a cooked tomato and mushrooms. yummy. i likee the breakfasts here.
most of their town names sound dirty… towns that end in "wang" and start with "bung" make me giggle. like kurrawang and bungonia… that's funny… oooh! and megalong! oh, wodonga is the name of a town we passed through. every time i saw the name on a sign, i'd start singing the thong song: "wodong-da-dong-dong-dong." it had a population of 35K. but where was everyone? stores close at odd times, restaurants close at odd times… we can't figure anything out, unless we're in a major city. steve observed that the only places that are open with consistency are the wineries. our kinda place.
beets in burgers. when aussies come to the states, do they request beets on the side?
i have seen ketchup once this whole trip. at a mcdonald's. if anyone has any sort of tomato based condiment, it's this tomato sauce. tangy and sweet sauce… with a consistency not unlike the sweet and sour sauce at mcdonald's. but chunkier. it's good. so… we got to mcd's and i request tomato sauce… and whaddaya know? they have ketchup! in the nicest packages ever! you know when you go to mcd's and you get those ketchup packets? and they almost feel as though they'd fall apart if you play with them too much? and they're super easy to tear apart and open up? these were made out of this thick material. you couldn't crease it if you tried.
actually, i didn't see many condiments at all. steve claims he's going to have ketchup with everything when we get home... with burgers, with fries, with beer :P
why doesn't the US go to the metric system? it's all so logical… steve said carter tried doing that in the 70s or something. i don't really remember the 70s. i wish i could say it was because i did a lot of drugs, but it's because i was like 2 or something. i found myself changing everything to miles in my head … i couldn't tell if 120km was far or not. i mean, it's kinda far, but how far is it really? yeah… every single time i saw a sign, i'd tell steve how many miles it was. i don't think he cared. in fact, it was probably just really annoying him.
they have the tastiest chocolate bars here. i must try them all! one of the ones i like is called "picnic." mmm…. tasty wafer thingies and peanuts and caramel goodness all covered in chocolate. the other is "time out." some other flaky tastiness on the inside… goddamn, but the geniuses at cadbury are evil!!! they also have hazelnut flavored snickers here. i never got around to trying that...
the soft serve ice cream is really weird here. steve had one the other day. it was like cool whip atop a cone. the one at mcdonald's was slightly better in consistency, and only a tad bit better in taste. not that i don't love cool whip. i do! on top of pies and desserts and steve and stuff like that! but not when i'm expecting ice cream.
arnott's
makes the best goddamned cookies in the world. steve's addicted to the
milk coffee cookies
(i think). more like biscuits if you ask me. i loved their kahlua cookies (which were covered in chocolate) and their caramel crowns (also covered in chocolate). they were so good.
i think there was only one restaurant we went to where there was a line on the receipt to leave a tip. i guess no one else expects tips.
there's also no tax. and no pennies. everything gets rounded to the nearest 5 cents.
okay. now that i've inundated everyone with way too many details and pics about our vacation, i'll go back to writing mean shit about people i hate.