N'awlins!
so, i'm really excited to be going to new orleans... it'll be
jules
and one of steve's friends joining us...
besides going to
voodoo music fest
, i wanna go to
Pat O'Brien's
for hurricanes...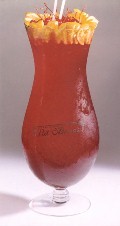 this is the magnum hurricane. it holds 3 gallons of hurricane. 3 gallons. i am not sure if the 4 of us could finish one... oh, who am i kidding? we've got steve! and if i haven't mentioned before, steve has a hollow leg. he can drink anyone under the table.
i also want to go to
cafe du monde
for
beignets
. mmm... powdered sugar fried goodness.
and last but not least...
muffalettas... had it once at the
farmer's market
in LA. i love that place...
at any rate, just look at it... i don't think i can get my mouth around it...
that sounded dirty. so do muffalettas...
nina
mentioned we should check out the
french open air market
and a couple of places around there... so hopefully, if we're not completely obliterated, we can go check that out.
and jules is going to get us beads. she just doesn't know it yet. woohoo! it's going to be fun. i'm not sure if we'll be taking lots of pictures. i don't want to be responsible for our camera there. maybe we should take a crappy camera. hrm...
unfortunately, i have to work right now. i was hoping to leave early so i could at least be home when jules is home... stupid work. it's interfering with my blogging and my fucking around in general. *sigh* i may still leave early. just not as early as i thought i'd be leaving. damnitall.
hopefully next week i'll be back to reading blogs and such... do they think i work here or something? *grumble*