larry's new blog *UPDATED*
one of my favorite boys... larry's
new blog home
.
btw, he's single and he's hot... :P just thought i'd throw that out there...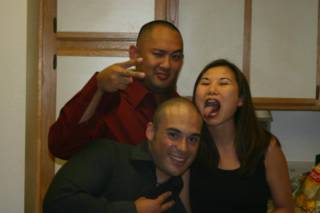 uhm, please ignore the unflattering picture of me. larry's the one i'm about to lick. i don't know if he has hair now or not. this pic is several months old.
okay, maybe this isn't the BEST pic of larry, but he's very cute. promise. i'll dig around for better pics. oh, and he's got a hot bod, too. well, what i saw of it. :P muwahaha.
oh, btw, larry's not that short. he's just squatting :P
*i knew i missed my calling in life to be a pimp*