THE HOFF
i will admit that when i was a kid, i really, really liked that show
knight rider
. it was one of my favorites... and i will EVEN ADMIT to having a crush on david hasselhoff. he was the well-coiffed man of my dreams. well, he had the car of my dreams, at least. sure, laugh at me. whatever. that hairy chest, that hot bod, the car, that furrowed brow, the chiseled bone structure... and GOD, who could forget the LEATHER!
okay. fine. i was retarded. come on! what did i know? i was a damned immigrant. ANYWAY... this is a pictorial tribute to david hasselhoff... some of these... are fucking classic!!!
*unfortunately, i could only get 11 out of the 12 pics to come out okay. one short of a calendar year. DAMN IT!*
wow! wet, white shirt. *meeeow*! also, i would like a pair of leather pants like those...with the laceup in the front? yeah. i think those are pretty hot. god, would you look at that stance? makes him look TUFF with a capital T.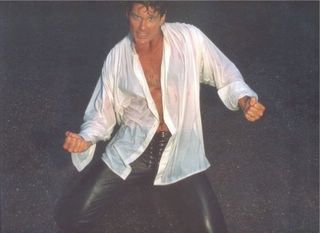 mmm, 80s. you can't help but just LOVE that hair! it's all poofy and shit. and the nice RED mock turtle neck. he just looks so dreamy in red! and he was just so ahead of his time, too... lookit that big belt buckle! somehow, he just knew that junior high school girls everywhere (and paris hilton) in 2004 would be sporting those... are those still in? tell me they're not. i hate them.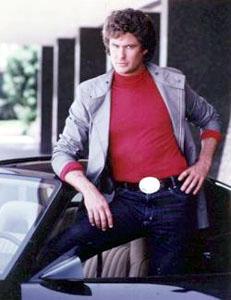 nothing says manly like a leather top and bikini briefs. nothing.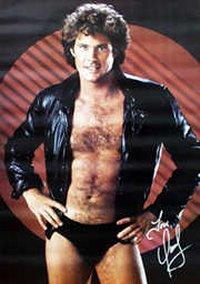 is it cold in germany or something? come here, hoff... you can have my love to keep you warm.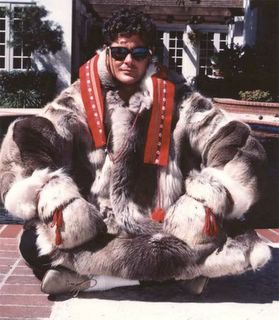 david hasselhoff... a true american... waving that american flag furiously in front of his german audience. MMM! leather pants again!
awwwww... david in a cuddlier moment... i'll bet you he's wearing leather pants here, too... you just can't see them in this pic.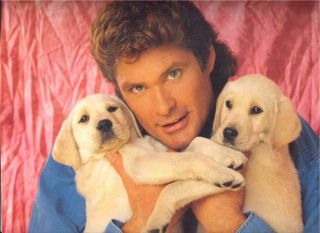 sing it, david, sing it... god! he makes me swoon. matching leather! mmm, i love the way you hold that mic, david...
is that an outline of KITT in the background? and does PETA know about his leather fetish?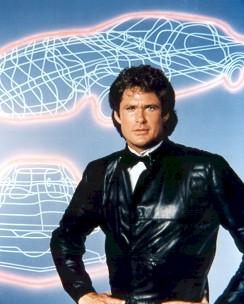 okay, well... this might be the second manliest picture of him... with that little bandana around his neck, on the bike and that come-hither look on his face...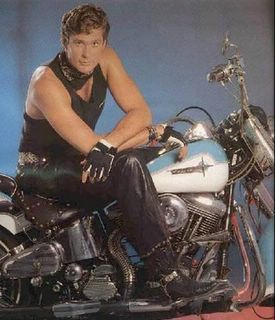 damn! we got the double guns going on here!
and just for the holidays! lookit that little boy pose! the little slippers and the adorable hat with his name embroidered on it! THIS is the money shot... booyah! (did you notice he's holding mini-mes? well, mini-hims, i guess they are... so very artsy!)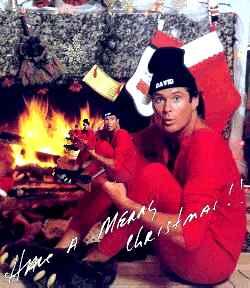 you're welcome.