last night
we went to
beverages and more
... (bevmo!) we dropped more than $100 on alcohol. yeah, we're going to have a good bbq this weekend. hehe..
*~*~*~*~*~*~*~*~*~*~*~*~*~*~*~*~*~*~*~*~*~*~
steve got a package from his friend who lives in texas. this package had multiple cd's in there. one of them happened to be called christian's mix (christian's his son's name). his son is probably about ... 6 or 7? i'm not sure. i can never tell. anyway, he had good songs on there! i can only imagine that christian picked these songs out himself... he had
kinky
's "Mas" and
basement jaxx
's "Do Your Thing" on there... and other stuff. i can't remember now... but kinky! and basement jaxx! man, if/when we have kids, i hope they turn out as cool as christian.
*~*~*~*~*~*~*~*~*~*~*~*~*~*~*~*~*~*~*~*~*~*~*~
while making dinner, we listened to disc 1 of
palookaville
by norman cook, aka
fatboy slim
. for some reason, whenever i listen to his happy, housey beats, i just want to go to the beach and run around topless with my other topless european friends. oh, i'd have to be in europe, though. i'm not sure why. maybe
this
has something to do with it.
oh, and the last song on disc 1 is
bootsy collins
singing
the joker
... yeah. you gotta hear it.
*~*~*~*~*~*~*~*~*~*~*~*~*~*~*~*~*~*~*~*~*~*~*~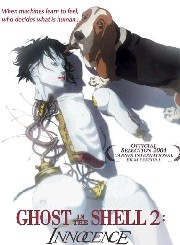 watched
ghost in the shell 2: innocence
last night. maybe it was just too deep for me or something... i dunno. i couldn't get into it. i fell asleep and missed the last half hour or so. now i'm really confused about what was going on. apparently, you need to stay awake for the whole thing. or maybe it was the 2 glasses of wine i had. i'm a lightweight. heh.
the animation was amazing, of course. cute ass little dog in the movie. steve said that it's the director's dog. kawaii!
but, if you're a fan of the ghost in the shell series (anime and manga) i'm sure you will just LOVE this movie. i like the series, but i'm not addicted to it or anything.
*~*~*~*~*~*~*~*~*~*~*~*~*~*~*~*~*~*~*~*~*~*~*~*~
afterwards, i got bored, so i asked steve to take me porn surfing. man, what a let down! obviously everyone's going for quantity over quality. either that, or steve was saving the good stuff for himself and holding back or something.
and what's up with all the freaky fetishes! damn. maybe i'm naive, but i had no idea there were so damn many! my god!
anyway, we ended up at kobe tai's page. now, we've met her at a signing/photo opp at spanky's our neighborhood porn store. see the pic? this may be one of steve's proudest moments. (and let me explain why i look so haggard. we spent all day running around and riding bikes all over catalina island that day and on our way home, we picked up an
OC Weekly
and saw she was there. it was a spur of the moment thing. no really, it was.)
the point of this is... her official site lists her as being 5'3" and 90 lbs. i believe the 90 lbs, but 5'3"??? PUH-LEAZE! i'm leaning over a little and she's standing straight up. i've got sneakers on. she was wearing these huge platform, come-fuck-me shoes and we're about the same height. there's NO WAY she's taller than me! her heels were at least 3 or 4 inches tall! she's gotta be under 5'0". yeah! so there!