pikmin 2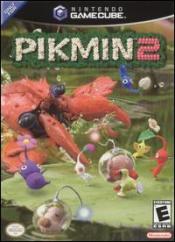 pikmin has got to be one of the cutest games ever... it's fun and cute, so the bad guys don't seem so scary... but i'm stuck now...
i'm supposed to be playing tonight so steve can review it for
the mag
he writes for, but i don't know if i can go on. i should look for a walkthrough. the only problem with me having a walkthrough is that i stop playing the game and i start following the walkthrough.
anyway, pikmin's pretty quirky... they're like half little animals and half plants... never mind. if it sounds crazy... it is. but, we all know the japanese come up with some crazy ass games. my only complaint is that they said that pikmin would be 2 player co-op, but i haven't seen that option... what's up with that? damn.
uuufff... steve may have to play it for me...